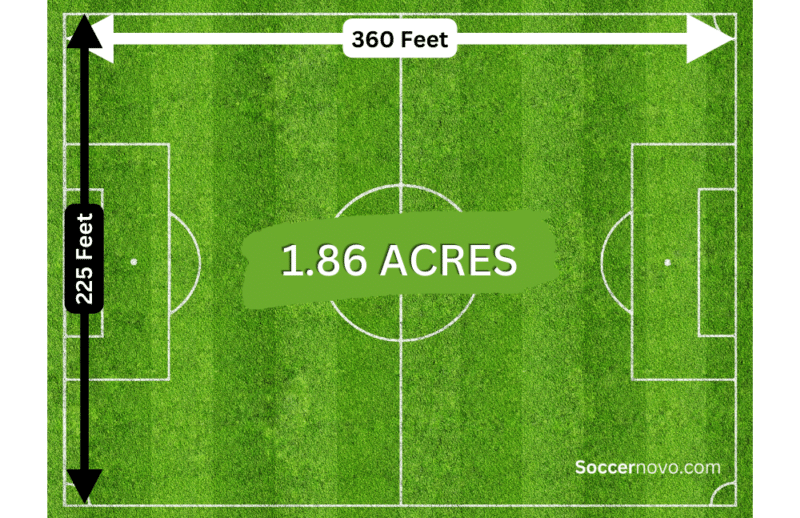 How Many Acres is a Soccer Field?
How many acres is a soccer field? The average soccer field is 1.86 acres or 81,000 square feet.
The average soccer field or "pitch" as it's also referred to varies in sizes. A standard adult soccer field can range from 1.59 to 1.98 acres.
Let's take a look at how the standard adult size field stacks up to the other field sizes.
Dimensions of a Soccer Field
Now that we know the average soccer field is 1.86 acres, let's break it down to how we got to the answer.
360 ft. x 225 ft. = 81,000 square feet
1 acre = 43,560 square feet
81,000 sq. ft. / 43,560 sq. ft. = 1.86 acres
Each league has a standard or minimum that stadiums must adhere to. For example, the FIFA minimum is 1.59 acres with the largest FIFA soccer field being 2.07 acres.
Youth Soccer Field Sizes
Youth soccer fields vary by age group and league. Sometimes it depends on how much total field space is available so they can split the fields up as evenly as possible.
Here are typical field sizes ranges based on ages of boys and girls:
U8: 0.12-0.31 acres
U10: 0.31-0.5 acres
U13 and above: 1.59-1.98 acres
NCAA: 1.66-1.98
Different Types of Soccer Fields
In addition to different size fields, soccer pitches are made out of different types of material. For one, there's real grass and artificial turf.
Here's a list of grass types used on a soccer pitch:
Kentucky Bluegrass
The Tall Fescue
Perennial Ryegrass
Bermuda Grass
Field Turf is one of the best options for artificial turf. Many youth soccer club organizations are leaning more towards field turf. And, it has almost completely replaced the traditional AstroTurf.
Field turf is made from artificial material known as polyethylene blades and resembles natural grass. This sits on top of crushed rubbery material that lays underneath. It's the material that spills out of cleats at the end of a training session.
How Many Miles Do Soccer Players Run During a Game?
There's no doubt that many soccer players run a lot. If you watch any soccer match, you'll notice some run way more than others.
Nowadays, modern GPS technology like The Catapult One Kit can track the miles you run during your training and/or match.
The average soccer player will run 5 miles during the course of a match. The players running the most average 7.5 miles.
This is why soccer players are considered to have great endurance and stamina. Being able to run up and down the pitch without getting too tired is a great advantage.