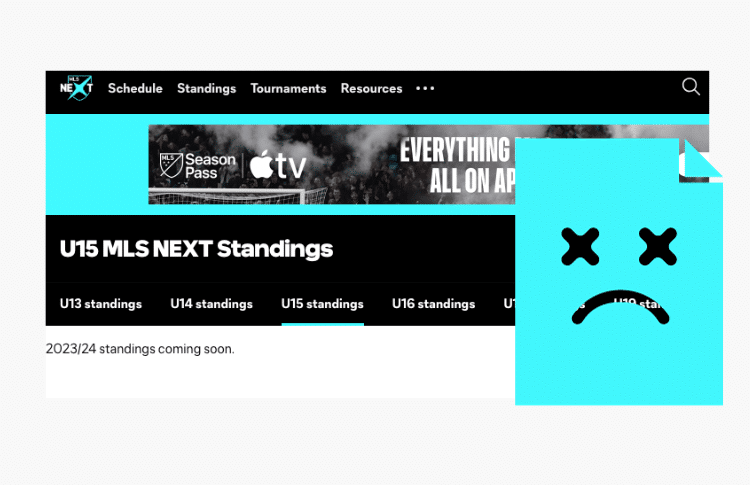 Where Are the MLS NEXT Standings & Schedule?
Update on 11/8/2023: Hooray! As of today, the MLS Next website has updated the schedule, scores, and standings. Note that there still needs to be some updates to the schedule.
At the time of this article (October 12, 2023), we are about a month into the 2023/2023 MLS NEXT season and there's still no official schedule or standings to be found.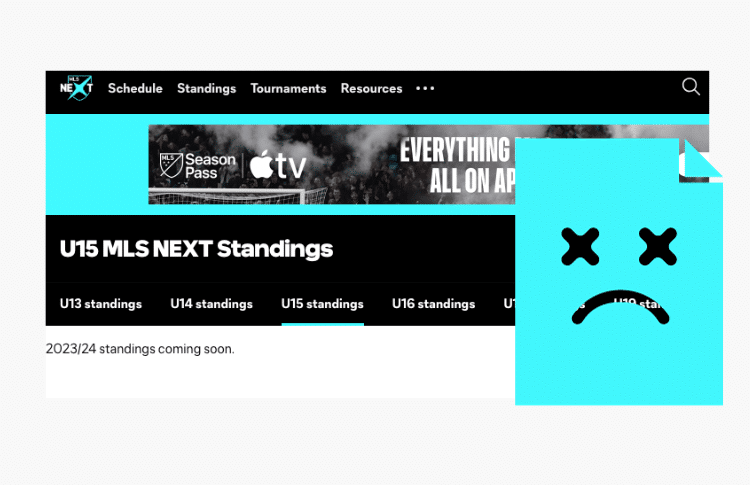 In the previous two seasons, everyone was able to go to https://www.mlssoccer.com/mlsnext and view the scores, standings, and schedules but all we are left with is "2023/24 schedule coming soon." This can be frustrating for coaches, parents, players, and club directors.
Here's a couple of scenarios that I heard. One is more likely than the other…
MLS is in the middle of switching scheduling platforms away from modular11.
Non-MLS Academy teams don't want their scores posted because they typically lose to MLS Academies – and vice versa (I don't believe this).
I know MLS had everything set up in the first couple of weeks leading up to the season but clubs made significant changes to the schedule. Then poof…it went away.
I'm hopeful that everything will be updated in the coming months. I can't imagine it dragging on too long.
Should Parents Care About Scores?
Not being able to find scores brings in another related topic. Should parents even care about the scores? As a parent, I think it's fun to see the league scores. Do I use it to scout and give my son an analysis, no!
I think providing transparency in youth sports is healthy. Our team is toward the bottom of the table. So, it's nice for his team to know a win (+3 points) moves them up in the rankings.
Also, because there are showcases and end-of-season tournaments, players and coaches should be able to know where they stand and what matchups move the needle.
Do you want to stay up-to-date on the latest? Subscribe here and I'll shoot you an email when the MLS NEXT website is operating again.